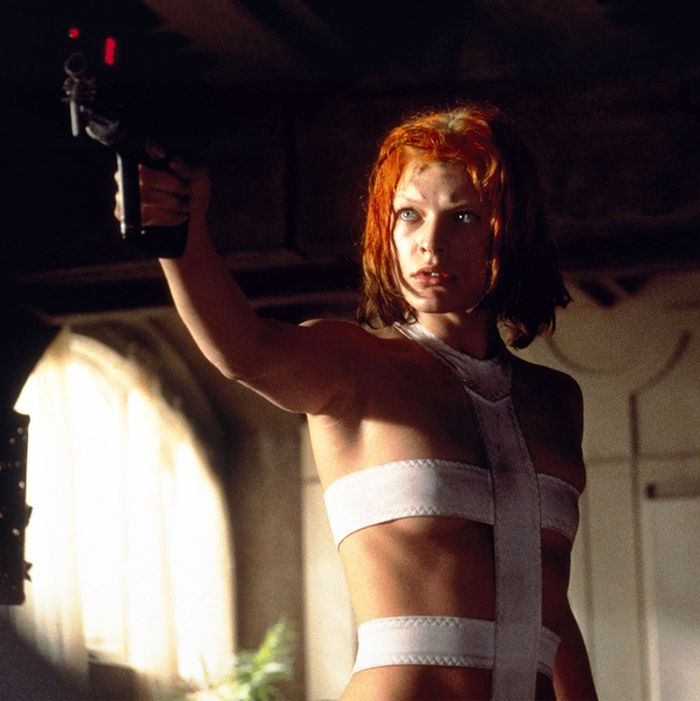 The Fifth Element.
Photo: Sony Pictures Releasing
This list is regularly updated as movies rotate on and off of Prime Video. *New additions are indicated with an asterisk.
Action movies are typically among the most popular films available on DVD, VOD and streaming services. People love to tune in, tune out, and escape while watching beautiful people doing impossible things. If you have an Amazon Prime subscription and are looking to do exactly that, its vast library contains some of the best action titles ever made, alongside its comedies, horror films, and family-friendly options. Amazon cycles films on and off of its service regularly, but these are the best action movies on Prime Video right now.
Year: 2007
Runtime: 2h 2m
Director: James Mangold
James Mangold remade the 1957 Western classic a half-century later with Russell Crowe and Christian Bale in the lead roles as a notorious outlaw and the rancher who has to bring him in for justice, respectively. It's a great ensemble piece that also includes Peter Fonda, Gretchen Mol, Ben Foster, Alan Tudyk, and Vinessa Shaw.
Year: 2011
Runtime: 2h 5m
Director: Takashi Miike
Takashi Miike has made directed over 100 movies, and this is one of the best, a stylish throwback to samurai cinema of old anchored by the modern filmmaking prowess of one of the best filmmakers alive. A remake of Eiichi Kudo's 1963 film, this is loosely based on actual events from 1844 when 12 samurai and a hunter worked together to assassinate the leader of the Akashi clan. It's a perfect balance of storytelling and sprays of samurai blood.
Year: 2016
Runtime: 2 hours 4 minutes
Director: Robert Zemeckis
Star power doesn't get much brighter than Brad Pitt and Marion Cotillard in this World War II thriller from the director of Back to the Future and Flight. The pair play a Canadian intelligence officer and a French Resistance fighter who are paired on a mission in Casablanca in 1942 in this elaborate period piece from the writer of Eastern Promises and Locke. It's a sexy, smart movie for adults.
Year: 2011
Runtime: 1h 28m
Director: Joe Cornish
Long before he won a Golden Globe for Small Axe (which is a must-watch on Prime, by the way), John Boyega broke through in this 2011 sci-fi/action flick from director Joe Cornish. With echoes of John Carpenter, it's the tale of a street gang who end up being the final defense between the world and an alien invasion. Smart and action-packed, it's a great one to catch up with over a decade later.
Year: 2022
Runtime: 1h 32m
Director: Baltasar Kormakur
Who doesn't want to see Idris Elba punch a lion? This B-movie takes a bit too long to get to the good stuff but it's fun once it gets going. The star of The Wire brings a gravity to a relatively ridiculous story of a family that gets caught in a deadly situation involving wild animals that have been terrorized by local poachers. Yes, it's a B-movie with a social conscience too!
Year: 2006
Runtime: 2h 24m
Director: Martin Campbell
It's hard to believe the most famous movie spy in history ever needed a comeback, but that's really what happened when Daniel Craig stepped into 007's shoes and it turned out to be one of the most acclaimed James Bond movies of all time. An origin story for the suave superspy, Casino Royale introduced new layers to the classic character, resulting in an action film that felt like it had real stakes. This is one of the best modern action movies, period, not just in the Bond franchise.
Year: 2018
Runtime: 1h 44m
Director: Jaume Collet-Serra
Sometimes you want to see complex character studies or detailed documentaries – sometimes you just want to see Liam Neeson kick ass. One of the unexpected action stars' best films is the 2018 thriller by his regular collaborator Jaume Collet-Serra (Unknown, Run All Night). Neeson plays an ordinary guy sucked into a murder plot on a train in a simple but effective story that Alfred Hitchcock would have loved.
Year: 1981
Runtime: 1h 39m
Director: John Carpenter
John Carpenter's 1981 action masterpiece imagined the distant future of 1997 when the island of Manhattan had become a maximum-security prison. When Air Force One is hijacked and crashed into New York on purpose, only Snake Plissken (Kurt Russell) can stop the madness.
Year: 1997
Runtime: 2h 6m
Director: Luc Besson
There's not a lot of great sci-fi on Prime Video, but you should fire up The Fifth Element if you're jonesing for something set in a different time and place in space. And make sure you do so on the biggest TV in your house and with the volume at a level to wake the neighbors. Luc Besson's vision isn't exactly a great piece of storytelling, but this Bruce Willis vehicle is a perfect example of the director's skill with world-building and technical elements.
Year: 1990
Runtime: 2h 2m
Director: Edward Zwick
There's something about off about a movie about an all-Black regiment of the Civil War being made by a white guy and centering another white character (played by Matthew Broderick), but this 1989 war movie still has value because of two simple words: Denzel Washington. (Well, and Morgan Freeman too.) Denzel won his first Oscar for this film, which was also nominated for Best Picture, instantly setting himself as one of the best actors of his generation.
Year: 1986
Runtime: 1h 50m
Director: Russell Mulcahy
There can be only one. Christopher Lambert stars as Connor MacLeod, who was born in the Scottish Highlands in the 16th century and killed there, only to discover that he was born immortal and is now a part of a massive secret war to leave only one highlander remaining. Yeah, it's all really silly, but this movie became a massive cult hit, thanks in part to Lambert and Sean Connery's fun performances.
Year: 1981
Runtime: 1h 55m
Director: Steven Spielberg
Everyone is getting cautiously excited for James Mangold's Indiana Jones and the Dial of Destiny, releasing later this year. It's the perfect time to catch up with the saga of cinema's most beloved treasure hunter in the beloved first four (well, at least three) films in this franchise. The perfect Raiders of the Lost Ark and its three sequels are all on Prime, waiting for your marathon.
Year: 1997 
Runtime: 1h 37m
Director: Barry Sonnenfeld
Forget the obnoxious reboot, this will always be remembered as the trilogy of original films that starred Will Smith and Tommy Lee Jones. These movies were massive and all three of them are now on Prime Video. It's marathon time!
Year: 1996
Runtime: 1h 50m
Director: Brian De Palma
The highly anticipated Mission: Impossible – Dead Reckoning will release its first part later this year, but Prime Video has you set to catch up with the story of Ethan Hunt to date, starting way back in 1996 with an adaptation of the hit TV show that no one could have predicted would still be relevant over a quarter-century later. Watch em all, but especially the ones since Ghost Protocol, which have been truly spectacular.
Year: 1969
Runtime: 2h 46m
Director: Sergio Leone
One of Sergio Leone's best films, his Western stars Henry Fonda, Jason Robards, Claudia Cardinale, and Charles Bronson. It's an epic film that casts Fonda against type as the bad guy and contains some of the best imagery in Leone's career, anchored by one of the best scores ever written by Ennio Morricone. In a 2008 poll by Empire of over 10,000 readers, filmmakers, and critics, this film was the highest-ranking Western.
Year: 2021
Runtime: 1h 49m
Director: Martin Campbell
A great action director in Martin Campbell (Goldeneye) finds a way to elevate what could have been a pretty generic thriller in this recent theatrical release, already on Prime Video. Maggie Q stars as Anna, a woman who has been raised as an assassin and trained by a man named Moody (Samuel L. Jackson). When her mentor is killed, she will do whatever it takes to get revenge. Michael Keaton is very fun in a supporting role too.
Year: 1985
Runtime: 2h 34m
Director: Akira Kurosawa
Late in his career, Akira Kurosawa delivered one of his most epic films in this adaptation of William Shakespeare's King Lear, blending that story with legends and history of Japan. The most expensive Japanese film ever made at the time, this 1985 war epic was a worldwide hit, bringing new viewers into the career of one of the best filmmakers of all time.
Year: 1987
Runtime: 1h 43m
Director: Paul Verhoeven
People like to point at '80s movies and say they were ahead of their time, but this may be most true about Paul Verhoeven's 1987 masterpiece, a film that foretold how technology would impact law enforcement in ways that took decades to come true. A brilliant action satire, this is the story of a Detroit cop who is murdered and revived as the title character, a superhuman cyborg enforcer. It's even more riveting and relevant almost four decades later.
Year: 1998
Runtime: 2h 49m
Director: Steven Spielberg
War movies haven't gone anywhere, a prominent part of film history from its early days through 1917. There are certain tentpoles in that history of war movies that feel like game changers, and one came in 1998 when Steven Spielberg returned to World War II to tell a different story of history, reminding everyone in the world about the sacrifices that were made that day, and the obligation we all have to make them worthwhile.
Year: 2012
Runtime: 2h 23m
Director: Sam Mendes
One of the best James Bond movies ever made is now the centerpiece of the 5-movie arc of Daniel Craig. The actor plays 007, of course, fighting against Javier Bardem's Raoul Silva this time around in a story that touches on the very legacy of the big screen superspy. Consistently riveting, and beautifully shot by Roger Deakins, this is top tier Bond.
Year: 1939
Runtime: 1h 36m
Director: John Ford
It won't play the same as modern action movies, but this could be the gateway to classic Westerns for someone in your family. Give them the gift of a flick that really changed the genre, in no small part because it really introduced the world to a young man named John Wayne. Based on a 1937 short story by Dudley Nichols, this is the tale of a group of strangers on a stagecoach as it travels through Apache territory. It has influenced too many action films since to count them all.
Year: 2021
Runtime: 1h 58m
Director: Guy Ritchie
The best film directed by Guy Ritchie is also the one that so many people seemed to ignore. Was it the pandemic? Did it just look too familiar? Trust that this is worth your time, a Heat-inspired story of a cash truck heist by a group of career criminals in Los Angeles. Ritchie directs his cast with ruthless precision, drawing great turns from his regular Jason Statham, along with Holt McCallany, Josh Hartnett, Scott Eastwood, Jeffrey Donovan, and many more.
If you subscribe to a service through our links, Vulture may earn an affiliate commission.
Source link