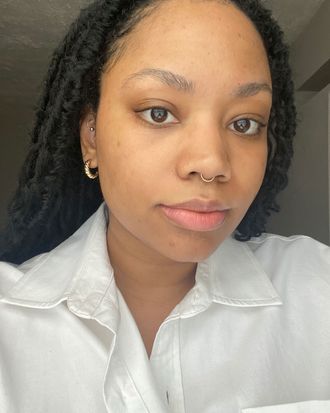 For more of the Cut's favorite fashion, beauty, and home finds, sign up for the weekly Cut Shop Newsletter.
You need sunscreen regardless of skin tone or location. If you're in the sun, your sunscreen should be on. It is what it is. Of course, when the sun is beaming and we're spending more time outdoors, it's the perfect reminder to re-up and refresh your supply. Always check your beauty products' expiration dates, folks!
However, we understand how tedious sunscreen application (and reapplication) can be, considering that the recommended amount of sunscreen to use daily is a lot — the equivalent of two-finger lengths to the face and neck combined. Not to mention, factoring in types of sunscreen, like chemical and physical, and whether it will burn your eyes or not, adds to the difficulty.
The biggest issue for many sunscreen users, including myself, is white cast.
The culprit for the unwanted, ghostly glow? The zinc oxide and titanium dioxide ingredients you find in most physical or mineral sunscreens that deflect the damaging rays, according to board-certified dermatologist and cosmetic and reconstructive Mohs surgeon Dr. Sheila Farhang.
To avoid white cast, Farhang recommends chemical sunscreens that absorb "the UV rays before they get absorbed into the skin." She also suggests finding sunscreens that are a blend of chemical and physical sun protection. Luckily, plenty of brands have improved their mineral formulas, so they're just as clear as chemical formulas.
When it comes down to it, good sun protection is really about finding what works for your skin and lifestyle. That's exactly what I was on the hunt for. Along with getting amazing (and affordable) recommendations from Farhang, over the course of a few months, I put more than 30 sunscreens to the test.
With all of the above in mind, I became a sunscreen person. I slathered on sunscreen in the morning before Zoom meetings and before weekend outings, and reapplied throughout the day. The criteria?
It had to be lightweight.

The formula had to be comfortable (meaning it didn't burn my eyes).

It wouldn't leave me looking like an oil stick.
Here are the ones that measured up and a before photo for reference:
Buzzy brand Naturium has recently expanded into the category with this sheer sunscreen, and it's quickly becoming a favorite. Cut staffer Asia Milia Ware also recommends this lightweight formula, which is water-resistant for up to 40 minutes, in case you have a pool trip planned. I tend to prefer glow-y sunscreens, but there's definitely a time and place for this matte formula that has what the brand describes as a "velvety, soft-focus finish."
I usually wear this sunscreen on its own, but it works well under makeup because it's moisturizing and gives a little bit of a glow without adding extra shine. The texture is extremely lightweight and so hydrating that it feels like a moisturizer.
A lot of sunscreens tend to feel like they're just sitting on top of the skin, but this one absorbs quickly and easily. This is perfect if you want sunscreen that doesn't feel like sunscreen — it's so moisturizing and hydrating, you'll feel like you just did an intense skin-care routine. The finish is not too shiny but not too matte, either.
This one comes highly recommended by Farhang, and it's a favorite among many of her patients. It's lightweight with a high SPF and, most important, no white cast. It's also under $10, which is a pretty good deal.
Serious Shade is seriously glowy. If you want to look like you just did an extensive skin-care routine and basically applied a golden-hour filter to your face, this is it. It's also lightweight and moisturizing. However, if you're on the oilier side, I recommend you skip this one unless you want to be seriously shiny.
This is many things: gluten-free, vegan, and water-resistant, but most of all it goes on without a white cast. It settles in with a mostly matte finish and without that weird filmy sensation you get with some sunscreens.
"Their big thing is about not leaving a white cast," Farhang tells us. Not only is it cast-free and lightweight, she loves the added anti-oxidant benefits. It includes "açai and green tea, which also help to decrease free radicals from UV exposure, as well as Rosa Canina fruit oil, which helps minimize the appearance of large pores and excess oil."
Okay, I'll admit I was a little worried when I poured some of this tinted sunscreen into my hand. At first glance, the color looked way off, too cool, and a few shades darker than my skin tone, but when I actually applied it, it blended in perfectly. There was no weird color and, even better, no weird smell or residue.
Photo: Retailer
The Unseen Sunscreen seems to be the general favorite, with a silky-smooth, almost primer-like finish. This was my second favorite from the brand; the gel-like formula goes on clear and dries with a semi-matte finish.
The whole premise of Black Girl Sunscreen is white cast–free coverage for darker skin tones. It's water-resistant and super-sheer no matter how much you put on. It's one of my go-tos. You'll get cast-free coverage and skin that feels hydrated, but also lots of shine, so if that's not for you, there's a matte version available too.
"I love this for my patients who have sensitive skin types. I use this after procedures at my office," says Farhang. "This formulation also has hyaluronic acid to help hydrate the skin."
La Roche-Posay has many, many sunscreens, and they are pretty much all a safe bet in terms of not leaving a white cast. The Anthelios AOX withstood one of the hottest days so far without burning my eyes. This is another one with added skin-care ingredients for benefits over time, including vitamins C and E.
Shiseido's Ultimate Sun Protector Lotion has long been a favorite; it has more than 2,000 reviews on Sephora, but this may be its next big thing. The hyaluronic-acid-infused sunscreen feels so moisturizing and has a dewy finish with no cast, of course.
This is like the Supergoop! Unseen Sunscreen plus a dewy glow. It goes on sheer but still feels pretty lightweight. It's SPF 30 and one of my go-tos, but it is a small bottle.
This comes highly reviewed by many Cut staffers, and in terms of sun protection, it's pretty unique. It's a tinted serum that also includes skin-care ingredients like vitamin C, niacinamide, and allantoin. It comes in three shades but blends pretty well no matter how much you slather on. It's good if you are the kind of person who wants to use vitamin C but forgets to protect your skin (me) and has to deal with the consequences (skin sensitivity) far too often.
Supergoop! offers an extensive catalog of sunscreens — that's pretty much the brand's whole thing. At the moment, I prefer the extra-dewy glow of the Watery Lotion, which is exactly what it sounds like, a moisturizing, watery lotion.
While many tend to have that sunscreen smell, you know the smell, this one is pretty much scentless. In terms of feel and results, it's on par with the Sun Bum sunscreen. It's mostly matte and moisturizing, sans that weird filmy feeling.
On the other end of the spectrum is a sunscreen that smells very good. Native also has a similarly scented one, and if you're not averse to putting scented products on your face, these are great. This one smells like coconut, pineapple, and a trip to the beach.
This one is on the pricier side, but Tatcha never steers us wrong. The tinted mineral sunscreen is almost too runny for the two-finger sunscreen rule, but it blends in well. After I applied, it kind of felt like I'd done an extensive hydrating skin-care routine. No surprise there, though, since the key ingredients are hyaluronic acid and niacinamide. Despite feeling hydrating, this sunscreen is surprisingly matte.
Another pick from Farhang is this sun serum from none other than Venus Williams, and who spends more time in the sun than tennis players?
"It is zinc based but also formulated with coconut fruit extract antioxidants and helps hydrate the skin," Farhang explains.
You can probably tell by now that lightweight formulas are my favorite. As it gets hotter and my skin gets oilier, I don't want a sunscreen that feels like I'm adding another layer of oil to my face. This milky formula feels incredibly smooth and light. I definitely recommend.
Starface's whole deal is acne-friendly skin care, so of course its sunscreen follows the same motto. With its clear gel- and fragrance-free formula, it doesn't clog pores or sit uncomfortably on the skin. It may feel a bit oily when you apply it, but once you finish rubbing in the recommended amount, it melts into the skin perfectly.
If you love the dewy glow of cult favorite Supergoop! Glowscreen, then you'll love this sunscreen that has a pearlescent shimmer. This has become my recent favorite thanks to its lightweight formula and glowy sheen that's ideal if you're missing your skin's warm glow during the winter months.
Here's another under-$20 rec to add to your cart. Ware also recommends this oil-free and radiant sunscreen. If you want the added skin-care benefits at a fraction of the cost, this sheer serum formula features hyaluronic acid and leaves you with a radiant finish. It's lightly scented, if that's your thing, and available at most drugstores, so you can even grab this last minute before your flight.
Source link