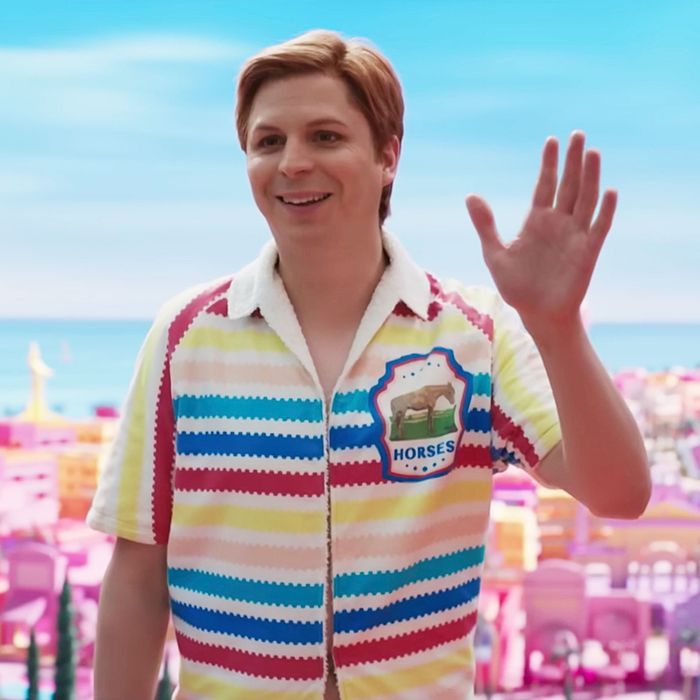 Great Gerwig's Barbie Land might be run by Barbies (and, spoiler, briefly by Kens), but its brightest star is arguably Allan — Ken's best friend, played indelibly by Michael Cera. Despite his determined blandness, Cera's Allan is funny, warm, and charmingly awkward. He is not trying very hard, if he is trying at all, which seems to have heightened his appeal among viewers. Suddenly, everyone wants some Allan for themselves. In the four days since the blockbuster's release, there has been "a major price surge" for Allan dolls, according to TMZ's calculations.
On Thursday, the day before Barbie dropped, original-issue Allans — first introduced in 1964 — were apparently selling on eBay for between $35 and $76. But by Tuesday, the starting price for many Allans had jumped to $150, even as much as $300, per TMZ. Finally people are seeing Allan's true value! And it's easy to understand why: He's a rare type. In the movie, there is only Allan in a sea of Barbies and Kens. He's an outlier; he doesn't quite fit in with the impossibly buff Kens (though he does fit into all Ken's clothes) or the all-powerful Barbies. He is regular, relatable, and yet he ultimately saves Barbie Land from destruction by patriarchy.
In some respects, doll Allan really should've been a collectors' item all along: Mattel discontinued him after just two years, a decision potentially related to concerns that he and Ken were too close to be just friends. Though Mattel revived a version of the character (Alan, with just one "l") decades later, as a husband for Barbie's bestie, Midge, there has only ever been one Allan — in real life as in Barbie Land. Maybe it's time Mattel gives him his due and puts him back on shelves.