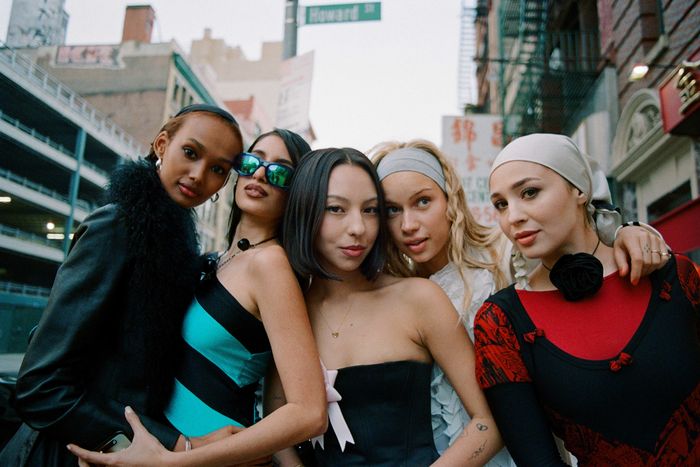 On the occasion of New York Magazine's "Yesteryear" issue devoted to the city's "It" girls, we gathered a handful of present-day women whom we think have "It." 
Apparently, going home is the most "It" thing you can do on a Tuesday night. That is, according to model and show host Anaa Saber, model and creative consultant, Maria Al-sadek, and their friends — photographer Lumia Nocito, designer and model Lindsay Vrckovnik, and model Ugbad Abdi — who had gathered at Chinatown's Jing Fong for a meal and a lot of Coca-Cola (their obsession). But first, they had to get the shot. On Centre Street, they smoked cigarettes and took photos, lots of them, to post. "Are we smiling or slaying?" Slaying was their response, of course.
Both Saber and Al-sadek think the term "It" girl has a negative connotation. But the group takes pride in being women whom younger girls can look up to. Like most of us, they deal with being in their head about things like how people perceive them and what people think of them. But with the proper balance and friend group, they seem to be figuring it out just fine. "I truly don't know what I'd do without them," Saber says. When not hosting her Behind the Scene TikTok show, Saber might be seen anywhere from the hottest NYC party to the Montauk beaches (a very "It"-girl thing to do). Al-sadek is usually on the scene too at downtown parties, styling her hijab in the coolest ways.
Lindsay Vrckovnik: I think "It" girl is a very subjective term.
Anaa Saber: I feel like we should be considered that but also not at all.
Maria Al-sadek: I don't think of myself that way, but I feel like we're probably perceived that way. Anybody with confidence and style and the confidence to have a strong personal style is seen as an "It" girl. It's just like a confidence thing, the way you present yourself. But I don't look in the mirror and be like, You're an "It" girl. All of my friends are "It" girls.
Lumia Nocito: I feel like we're obviously very much ourselves.
Anaa: Yeah, I feel like "It" girl can mean so many things. It could be someone who is an activist. It's very subjective to other people's point of view of what that should be.
Maria: I think anyone can be an "It" girl. Well, anybody who's genuinely themselves.
Ugbad Abdi: With confidence.
Anaa: That's so special to have, even someone to be like, "Oh, I look up to what you wear and how you dress." Because how I dress is something I love so much, and it's so special to me.
Maria: It's kind of humbling, and it's also flattering. We all look up to people or have looked up to people. It's just nice to know that somebody might be inspired by you or feel confident based on you.
Lumia: As a photographer, I feel like when people say they started doing photography because of me it's crazy, like, wow, I'm able to do that for one person.
Anaa: And Maria, you've carved a space in the modeling world for so many people to look up to you and Ugbad.
Ugbad: I just feel, like, growing up I had four younger sisters who tell me every day, "Oh my God, I want to do what you do." They're so young, and it's nice hearing that. It motivates you to keep doing whatever you're doing. For me, modeling and being in this industry, it's like you don't really get to see people who wear a hijab actually doing the job their counterparts are doing. So it's a good feeling.
Anaa: It's nice to have someone to relate to, right? I feel like you guys are someone people look up to because of the way you carry yourselves. You carry yourselves with grace, style, and confidence.
Maria: Well, thank you.
Anaa: I looked up to all Bollywood celebrities because I really wasn't into western films. I loved their Y2K style. I feel like my entire style persona is based on my Bollywood icons like Helena Kapoor. All those girls had the sickest Bollywood style. Those are my fashion icons.
Maria: Tumblr models and cool girls on Tumblr.
Lindsay: I feel like when I was really young, it was MTV. I would just watch the music videos. I was obsessed with Gwen Stefani. That's where I got my inspiration as a kid. This was pre-Tumblr and pre-internet.
Maria: I'm happy we grew up when it was just TV. I think about that a lot. Even when I think about having kids, I can't imagine having a kid and being so bombarded with social media.
Maria: I definitely feel like people project their own idea about who you are onto you and you can never undo that. I'm really sensitive; I care about what other people think about me, unfortunately, and I'm always thinking, Oh, how are people perceiving me? Even my family. I'm like, Do they really think about me? At the end of the day, it doesn't really matter what other people think. But, I don't know, it takes a while to get to a point where you really don't care. I don't even know if it's fully possible.
Lindsay: I won't care when I'm old and off social media and living on a farm somewhere.
Anaa: I think it's hard to unlearn that, right? As a South Asian woman, I feel like my culture has made me conditioned to think about what other people think about me. Every day, I'm consciously trying to make an effort to not feel like I have to abide by those rules or standards.
Lumia: But I think it's also hard not to. I feel like I become so aware of myself thinking about that, and it's like you'll never have an answer to what everyone thinks about you.
Maria: Just remembering that is also really helpful.
Lumia: It really doesn't matter as long as you're comfortable with what you're doing. Also, if you're surrounded by people who are kind of in the same position and also get it, it makes it better. I feel like if I didn't have you guys, I would probably be losing my mind about all these things.
Anaa: It's nice to have a group of friends who get it and can help each other grow.
Maria: We also keep each other grounded.
Maria: Honestly, I just feel like none of this really matters. At the end of the day, it's social media. It's also a job at the end of the day too. It's hard because a lot of our jobs are very intertwined with our identities, which makes it a really weird place to be in because sometimes you really just want separation from work, but it's you. You kind of just have to be super-conscious all the time. You have to consistently just feel like nothing matters, but it takes a while to get to that.
Lumia: We have our own private lives, and we know what really matters. The more you know yourself and are grounded in knowing yourself and what you value and what you're interested in, the better. It's easy to get lost in this, and knowing that helps me not get lost. I know who I am, and knowing what I value and having friends and things that really matter in life make a difference.
Lindsay: I'm like a granny. I feel like my ideal Saturday night is eating a huge meal and smoking a joint and lying in bed. That's kind of what I do every night.
Maria: A good meal is very important to a good Saturday night, whether it be at home or at a dinner spot.
Anaa: Last Saturday, I went to the movies at 9 p.m., and it was the best Saturday. I went to the Angelica, an indie theater. We watched this movie, and it was so good. That's a good Saturday night. I love going to the movies. Also, it was nice because it was a different theater, so it was like a treat.
Lumia: I like when my friends just come to my house and we're just hanging and talking and maybe I'm working on a painting or a weird art thing. Sometimes my friends will bring their art stuff over and we'll just make art in the same room with a big cigarette — ideal Saturday. It's either that or going on an adventure, like going somewhere new. Literally just going somewhere new. I think that would probably be it.
Ugbad: I've recently just been sitting on the couch and watching reality TV. I'm watching Love Is Blind right now.
Lindsay: Strawberry matcha lattes.
Lumia: Leather jackets. Like, really into them. My dad used to ride motorcycles. I mean, I just tattooed it on my back. But outside of that, I'm always in my moto era. I am obsessed with Juicy Couture, too — I have 30 tracksuits, probably 40 T-shirts, and over ten bags. So that's always an obsession. Also organizing my house. I like to label and organize.
Maria: 90 Day Fiancé.
Lindsay: I'm obsessed with drinking Coke.
Ugbad: I'm constantly on Depop just searching for hours. Trying to find one of the perfect jackets or anything. I love Depop.
Maria: I love the Real Real or anything that's secondhand.
Lumia: I love Vestiaire.
Lindsay: They're all good; you just have to spend time.
Anaa: It's funny because I feel like I do all my shopping when I travel. I go to a vintage store wherever I go, not so much in New York.
Lindsay: It's harder, like, looking in New York isn't as good as literally anywhere else. It's all overpriced.
Anaa: Or you feel more inspired when you're in a new place, even when you're just looking through racks. You're like, Oh, this is it!
Maria: Also Ssense.
Lindsay: If I go on Ssense, I can't pick two things. Now, I have 17 things in my cart and it's too tempting. They have so many designers on there now. It's insane.
Anaa: Definitely getting free clothes.
Maria: Also being able to have new clothes to wear all the time. It's really insane.
Lindsay: Sneakers before a sneaker launch.
Anaa: Also, fun parties.
Lindsay: I don't know. I don't think I've ever been to a fashion party I had fun at.
Anaa: Yeah, you have. I've been there.
Lindsay: No, when I'm with you guys, it's fun. But it's you guys that make it fun.