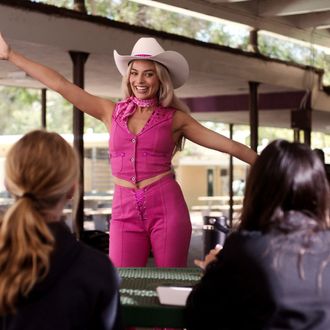 Photo: PictureLux / The Hollywood Archi/Alamy Stock Photo
In its record-breaking first week in theaters, Barbie has opened a conversation about the plague that is men playing acoustic guitar for women, welcomed a bevy of odes to Allan, and created an influx of "You Are Kenough" hoodies on Etsy. But, most important, Ms. Greta Gerwig & Co. has stirred a moment of worldwide reverence for girlhood. One specific scene from the movie has captivated young women on TikTok. Hint: It's the one that left droves of viewers wearing pink sobbing.
Throughout the movie, Margot Robbie's stereotypical Barbie is having an identity crisis, which culminates in a heart-to-heart with Ruth Handler, creator of Barbie, played by Rhea Perlman. The two women stand in the void as Handler tells Barbie to "take my hands, close your eyes, now feel." In this scene, a video montage shows women in various stages of life, just living — getting ready, laughing, playing, and crying — set to "What Was I Made For?" by Billie Eilish. "I had this idea that I wanted that moment in the film to be truly made by the people who made the movie," Gerwig told host Andrew Freund in an interview. "So I said to everyone — cast, crew, everyone from editorial — 'If you have things that you're comfortable with sharing, this is an idea.' We got the most beautiful moments from people's lives. It was people's friends, aunts, mothers, daughters, sisters. It was just extraordinary." Unsurprisingly, the mix of Barbie's loss of innocence, newfound agency, and the soft falsetto of Eilish made for one of the movie's most poignant, memorable moments. Fans of the movie have taken it a step further now by creating their own short montages and videos on TikTok in the same style to show their inner child's connection to Barbie's journey.
An official Eilish account, @billieeillishhome, originally posted the video, and a user named Sarah, a.k.a. @waitingmirrorball, posted a template for the sound that has become viral, kicking off the trend. As of this writing, the TikTok sound has over 89,000 videos under it. One trend compares a photo of someone going to see the Barbie movie, "The person that bought the ticket to see Barbie," with a second picture of themself as a child, captioned, "The person that watched it." Most popular is a trend where users post their own personal montage, like we see in Barbie, and simply caption it "Girlhood."
Even before the first Barbenheimer meme was born on the internet, Barbie started to stir something in the masses, and now we're in a full-fledged Barbie renaissance — a sincere moment where girlhood is not just palatable but inspirational and cool. This TikTok trend is a chance for people to celebrate the full range of girlhood — whatever that means to them. Sometimes it looks like wearing Barbie-pink dresses, but it can also be bonding with other women, graduating, running with childlike abandon at the beach, and dancing with friends. At its core, the trend is less about the definition of femininity and more a testament to Gerwig's notion that Barbie can do anything. Okay, well, almost anything. A fart opera is too much to ask for, apparently.
Source link