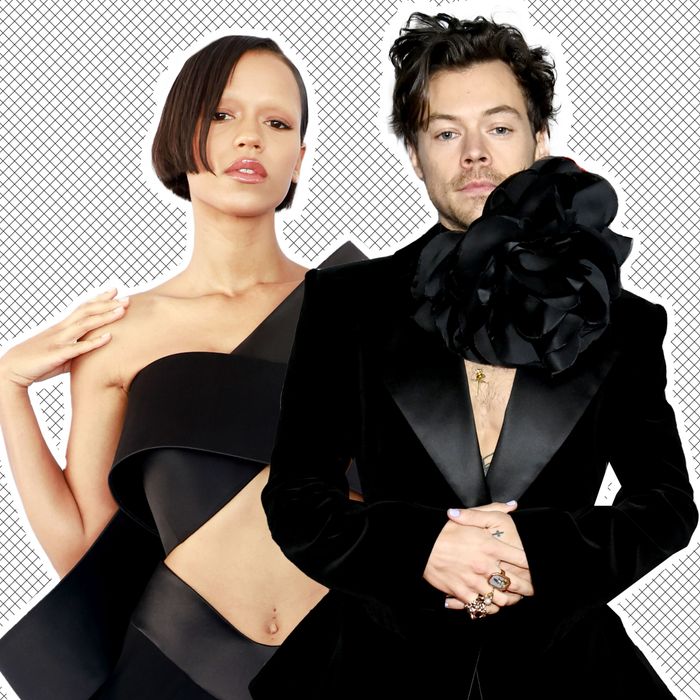 Photo-Illustration: The Cut; Photos: Getty Images
For us normal people, a stroll is just a nice way to get some air and a little exercise. But when two celebrities go for a walk, it can be a much flirtier proposition. Remember the pap walks Ben Affleck and Ana de Armas used to take? Or the famed coffee runs Shawn Mendes and Camila Cabello would go on? Or the horny outdoor courtship of Justin and Hailey Bieber? Some fans now want to add Harry Styles and Taylor Russell to that canon after the duo — or two people who look a lot like them — were photographed wandering around two different cities together.
Over the weekend, Russell was spotted in Vienna at a Love on Tour show — not just in the crowd but backstage, standing in an area that looks like a sound-mixing station or control center, per TMZ's photos. The next day, Russell was seen walking around the city with a tall, skinny white man in a baseball cap whom some online observers (and Pop Crave) believe to be Styles.
Details about when and how the Canadian actress and the British singer met are still a mystery, but their encounter in Vienna may mark the second time in the span of a month that they've been seen hanging out. In June, Styles left a museum in London with an unidentified woman, and in pictures circulating on social media he appeared to be holding her hand. The photos were taken from a distance, making a definitive I.D. difficult. Still, the woman has Russell's signature bob, while Styles's navy jacket looks not unlike the one worn by Russell's Austrian companion. See:
As for their dating histories, Styles was last spotted making out with Emily Ratajkowski in the streets of Tokyo in March after breaking up with Olivia Wilde months earlier. Russell's personal life is much more private, though she was rumored to have dated her Bones and All co-star Timothee Chalamet late last year. As expected, neither Russell nor Styles has acknowledged the rumors, but that hasn't stopped wild and hopeful speculation among fans. Stay tuned to see what city these two will stroll through next.