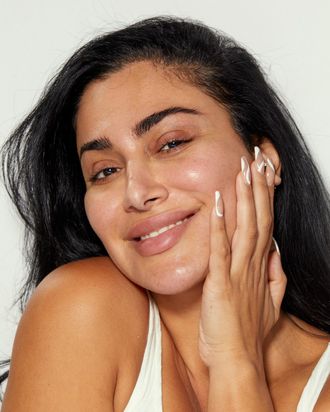 Photo: Courtesy of Huda Kattan
When you think of an influencer before influencing even became a thing, Huda Kattan comes to mind. The self-proclaimed "OG beauty blogger" created her blog and YouTube channel over a decade ago. In April 2010, her social-media career began with viral DIY beauty hacks and selfie tips. Her channel now has over 4.13 million subscribers. According to Kattan, when she was building her brand back then, partnerships and collaborations were nothing like they are today — in fact, they were nonexistent. Kattan remembers approaching Sephora and asking it to advertise on her blog. "I'm literally making no money, but I'm promoting all these Sephora products. Can you just advertise with a banner on my site?" she recollects. But the company couldn't quite grasp the concept then. It understood the sales and the reach of her influence, but paying an individual person who wasn't a media conglomerate just wasn't heard of back then. Needless to say, it took time and patience to build her platform, and eventually, all of her hard work paid off. Within a year and a half of creating beauty content while working as a makeup artist, Kattan was getting high-paying gigs.
While her beauty blog blew up, she knew that honing in on her own personal brand was important too. So in 2013 after moving to Dubai, Kattan launched Huda Beauty. The first products she ever created were false eyelashes, which quickly became a cult favorite among celebrities and makeup enthusiasts. Fast-forward ten years, and the brand has everything from best-selling foundation and concealer to eye-shadow palettes. However, the product that is most talked about on social media is her loose setting powder, beloved for giving makeup an airbrushed, flawless finish. This makes sense, since Kattan became very popular for her viral baking technique (among other things) when doing her makeup.
While makeup is her expertise, she makes sure to tend to her skin under all the products. Kattan views makeup as an addition, and skin care has always been a form of self-care for her, even in the midst of running her business. In addition to managing her work life, she's also a mom to her 12-year-old daughter, Nour Giselle, and a wife to her husband, Christopher Goncalo. Kattan admits that life can be hectic sometimes, but one of her nonnegotiables is making time for herself in the mornings. The first thing she does when she wakes up is pray and write in her gratitude journal. This year, she started practicing another life-changing habit: brain dumps. "I take my phone and I walk around my house — everyone thinks I'm crazy if they see me do it — or I'll walk outside because I want to get a little sunshine, and then I'll just talk about everything out loud, and none of it makes any sense," she says. Her brain dumps could be about frustration or simply working through a temporary emotion. Since living her life out loud on social media, which spiked her anxiety levels overtime, brain dumps have been the change she needed, and it's made her a calmer, more introspective person.
Her other form of self-care, skin care, also became a brand for her in 2020 with the launch of Wishful, which she admittedly was reluctant about at first. "I didn't really like the idea" of Wishful, Kattan shares. "I have always loved skin care so much and when we looked at my blog, I wrote more about skin care than I did makeup, which was so funny. My team came to me with the data and told me I have all these secrets and tips that are worth sharing," she says. She decided to start with launching her own scrub just to see if there was a place for it in the market. And there was, along with many other products she has launched over the past three years.
With years of experience, she's tried almost everything. But Kattan's current routine includes what she loves the most. It's carefully curated and gives her the most plump skin she could ask for.
She starts her routine with a scrub, something she was never able to use from other brands because of how harsh exfoliating scrubs can be. So she created her own, an AHA and BHA scrub with papaya and pineapple to gently exfoliate and soothe the skin while reducing the appearance of dark marks. She even lathers it behind her ears so she has soft skin all over.
Post-scrub, she cleanses with her sea-moss-infused gel-to-foam cleanser that retains moisture in the skin.
Next, she applies a vitamin C serum. She claims this is the best one she's ever used. She loves the squalane and marula oil, which help to brighten and hydrate the skin.
According to Kattan, she can never have enough hydration, so she lathers on her hyaluronic-acid and peptide serum after. Its name, Thirst Trap, speaks for itself — it firms and plumps the skin while also soothing it with aloe vera.
At night, she applies a retinal by Medik8, an overnight serum-to-cream hybrid that improves the appearance of wrinkles.
She seals it all in with her honey-whip moisturizer, a rich formula made of manuka honey and peptides to deeply nourish the skin while leaving her face feeling plump and full of collagen.
Kattan is keen on having firm skin all over, including her under eyes. After her moisturizer, she applies Clarins' eye serum.
But the serum isn't enough for her, so she applies a peptide eye cream over her serum for extra firmness and brightening.
Next, she mists her skin with Dr. Jart's face mist. Similar to the brand's cream moisturizer, this face mist adds another layer of hydration to the skin. For Kattan, it's the perfect reinforcement for locking everything in.
Then, she applies the cult-favorite Elta MD SPF for sun protection.
She doesn't like to wear her sunscreen alone, though. Instead of using a tinted SPF, she makes her own. Kattan mixes her SPF in with Drunk Elephant's bronzing drops for a radiant glow that instantly adds warmth to her complexion.
Finally, she applies Summer Fridays' lip balm for nourished and soft lips that last all day long.
"Having a great environment with a great team is always really important; that's probably one of the biggest things because nothing is a one-woman show, ever. I've always tried to really surround myself with amazing people. I've been really particular about that. I really care about everybody who joins the company, I still interview everybody who joins, that's still really important [to me]. I want to know what motivates them, I want to know why they're joining, I want to know if they're human, if they're humble or not, because those things show up later on and they end up impacting the future of the company."
Kattan frequents a Dubai clinic for treatments — mostly radio frequency, because while she doesn't feel like it does that much for her skin, she does like how it tightens her face. "I love a good snatched face. Everybody ages differently, but I noticed a few years ago I was aging quickly, so I did a DNA test and I found out that my aging was linked to my DNA and hormone levels. They told me I was going to age very quickly, so radio frequency has been helping me drastically."
In a few months, Kattan will be 40 years old, and she's embracing it. The entire decade of her 20s was a tough time for her. "I think we just care too much about what other people think in our 20s and I felt like it limited me from becoming who I was supposed to be because I was afraid of what people would think," she says. While it was hard for her, she had a complete shift in her 30s; she settled into who she was and was more comfortable in accepting that. "I'm still in my 30s, but it has just been the most beautiful experience."
For someone who has millions of followers across all social-media platforms, disconnecting is important. Kattan disconnects way more than people would probably expect. She gives herself a time limit of an hour a day on social media. Does she always succeed at honoring her limits? No, but when she does, she notices a drastic difference in her mind-set. She also prioritizes not bringing her phone into the bedroom. "It's really, really hard, because it's my job, but we have to be careful with what we're watching and listening to every day."
While she's been loving the honest conversations in the beauty industry, she doesn't think there's enough action. "The action is coming, but it's coming slowly. We've been talking about inclusivity for years, and things just aren't happening at the rate they should. I've been in the labs and I've seen the way they make the makeup; some of it starts there. I also wonder sometimes if there's a disconnect between the conversations and what people really want to happen. I think we say we want things to happen, like we want people to stop using so many filters, but then the filtered pictures and the Photoshopped pictures end up getting more likes. The change is happening, it's just happening slowly."
Source link