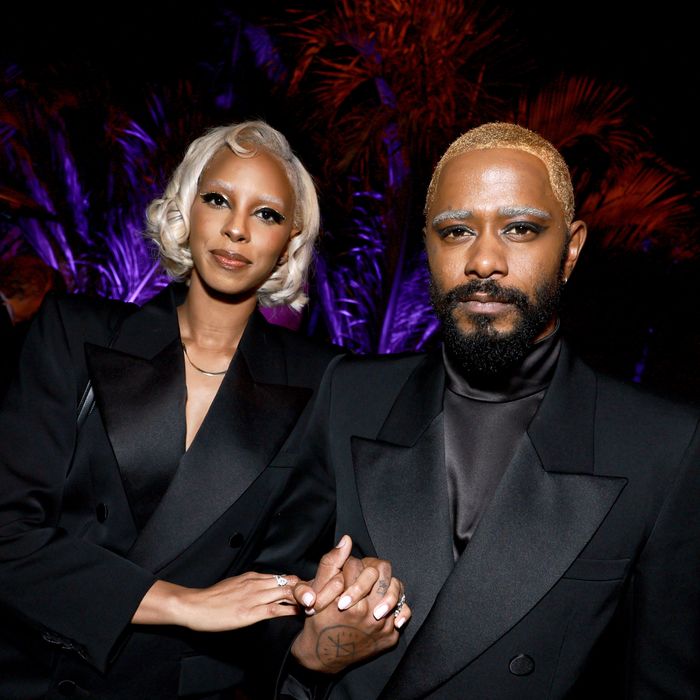 Photo: Matt Winkelmeyer/WireImage for Vanity Fair
LaKeith Stanfield's personal life is in the news once again, this time by choice. He and his partner, Kasmere Trice, recently announced two major updates regarding their relationship: They are married and also have a baby now. Double congratulations!
Stanfield and Trice sat down for an interview and inexplicably cowboy-themed photo shoot with People, where they revealed they married in private and welcomed a baby at an undisclosed point this year. "We've manifested this beautiful family," Stanfield told the publication. "I want to spend the rest of my life with her."
Stanfield and Trice got engaged in December, though not without controversy. Shortly after they shared the news, artist Tylor Hurd claimed on Instagram that Stanfield was the father of her infant, accusing him of keeping their shared daughter secret and not spending enough time with her. Stanfield suggested in a comment that he and Hurd had agreed not to "blast my child out to the internet," and Hurd eventually deleted her posts. Stanfield, meanwhile, said in a new Instagram post that he had enjoyed the holidays "spending time with family."
People acknowledged that Stanfield has "two daughters under age 7 from past relationships," presumably referring to the child he and actor Xosha Roquemore welcomed in 2017, along with Hurd's baby. Trice told the publication that she was "honored that I got to see the father in [him] before I was even having our baby," and Stanfield added that his older daughters are "so fun and so smart." Best wishes to the whole family! Yeehaw!