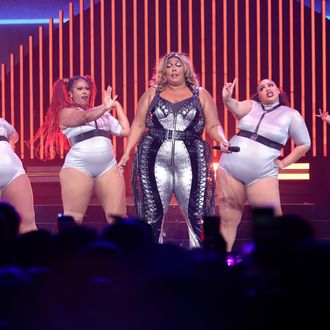 Lizzo.
Photo: Dave Simpson/WireImage
Three of Lizzo's former dancers have filed a lawsuit against her, her production company Big Grrrl Big Touring, Inc. (BGBT), and dance captain Shirlene Quigley. The dancers, Arianna Davis, Crystal Williams, and Noelle Rodriguez, allege sexual, religious, and racial harassment, disability discrimination, assault, and false imprisonment, according to a press release. Specifically, the dancers claim Lizzo invited them to a nude-performance club in Amsterdam and went "out of fear of losing their jobs." While there, the lawsuit claims that Lizzo "began leading a chant" to get Davis to touch one of the performer's breasts. "Ms. Davis said three times, loud enough for all to hear, 'I'm good,' expressing her desire not to touch the performer," the lawsuit states. "Davis eventually acquiesced, fearing it may harm her future on the team." Later that night, they allege Lizzo "badgered a member of her security team to get on stage where she pulled down his pants and hit him with whips." The next week, the plaintiffs say Lizzo took her dance team out without telling them they were going to a "nude cabaret bar" in Paris.
The lawsuit also alleges mistreatment from BGBT toward the dancers. "BGBT's management team consisted entirely of white Europeans who often accused the Black members of the dance team of being lazy, unprofessional, and having bad attitudes," the lawsuit states.
Additionally, Davis describes being fat-shamed by Lizzo and choreographer Tanisha Scott. "Lizzo and Ms. Scott pressed Ms. Davis for an explanation why she seemed less bubbly and vivacious than she did prior to the tour starting," the lawsuit says. "In professional dance, a dancer's weight gain is often seen as that dancer getting lazy or worse off as a performer. Lizzo and Ms. Scott's questions about Ms. Davis's commitment to the tour were thinly veiled concerns about Ms. Davis's weight gain, which Lizzo had previously called attention to after noticing it at the South by Southwest music festival." Davis was later fired for taping a meeting.
Davis and Williams first met as participants on Watch Out for the Big Grrrls, Lizzo's reality competition show, which found dancers for her team. While on the show, Quigley was a dance captain and a judge, and, the lawsuit alleges, often proselytizing her Christian beliefs. "Ms. Quigley discovered that Ms. Davis was a virgin and Ms. Davis's virginity became a topic of extreme importance to Ms. Quigley. In the months to follow, Ms. Quigley would routinely bring up Ms. Davis's virginity in conversations with Ms. Davis. Ms. Quigley even mentioned Ms. Davis's virginity in interviews she participated in and later posted to social media, broadcasting an intensely personal detail about Ms. Davis to the world." After Davis and Williams made the team, which Rodriguez was also on, Quigley allegedly continued proselytizing and "singled out Rodriguez as a 'non-believer.'"
Williams was also fired, purportedly due to budget cuts, leading Rodriguez to resign. "Lizzo aggressively approached Ms. Rodriquez, cracking her knuckles, balling her fists, and exclaiming, 'You're lucky. You're so fucking lucky!'" the lawsuit alleges. "Neither security nor management did anything to de-escalate the situation. As Lizzo left the room, she raised both her middle fingers and yelled, 'Bye, bitch!'"
Source link