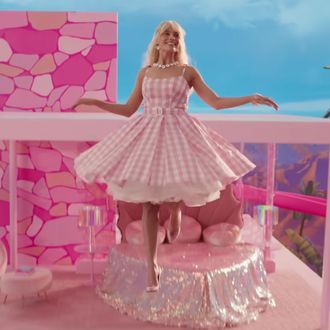 For Barbie, as we learn very early into the film Barbie, every day is a perfect day: She wakes up after a perfect night's sleep, says hi to all her friends with a perfect wave, takes a perfectly temperate (and waterless) shower, picks a perfect outfit, and has a perfectly toasted waffle. And it's all soundtracked by a (perfect!) Lizzo song, "Pink." But everything quickly changes once Barbie's irrepressible thoughts of death start to creep in — even the soundtrack. I could not stop laughing once I heard "Pink" start playing again during Barbie's less-than-perfect next morning, all the way through the song's new title acronym: "P: Panic! I: I'm scared! N: Nauseous! K: Death!" The Groundhog Day–esque gambit may not have been new, but the song elevated it to something hilarious.
"Pink" is the song I've kept spinning since seeing Barbie — it's one of the moments on the soundtrack that best reflects the bubblegum-meta tone of the movie. But what I really want to listen to is that second take: "Pink (Existential Crisis Version)," if you will. Until yesterday, I had to settle for a bootleg recorded in a movie theater (that I won't link to here, to save a fellow fan a copyright claim), since the "Existential Crisis Version" wasn't released with the rest of the soundtrack.
But that has all changed. The release of the song, officially titled "Pink (Bad Day)" came on Saturday, following "an overwhelming demand from fans," according to a press release from Atlantic Records. "Pink (Bad Day)" remains as scarily relatable as it was in the movie. Come on: Do you have a perfect Barbie morning every day or is yours closer to too-cold showers and burnt waffles? Do you not ever wake up feeling sad or scared or panicked? (I hope you don't fall off the roof of your house in the morning.) "Pink (Existential Crisis Version)" is the Barbie song for the people. Stream it above.
This post has been updated throughout.
Source link