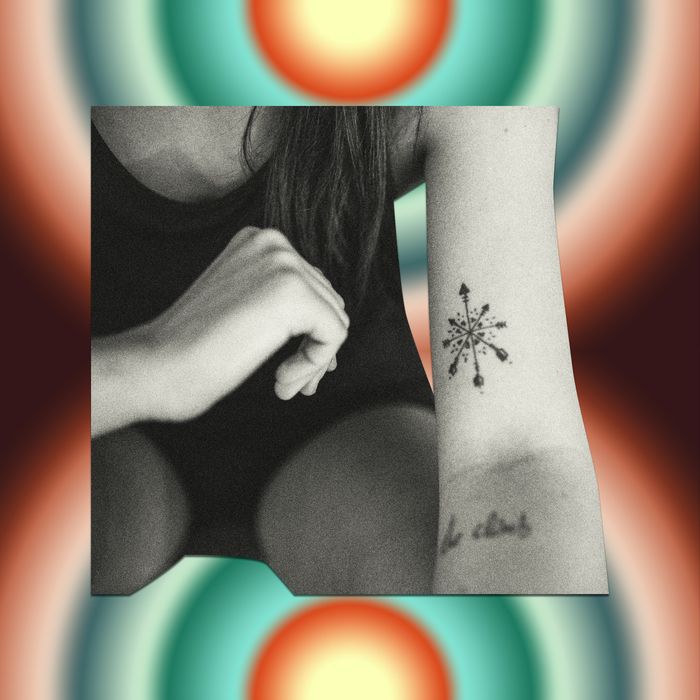 Photo-Illustration: by The Cut; Photo: Getty Images
A few types of removable or semipermanent tattoo inks have come out in the past 20 years, but the most popular version is Ephemeral's "made to fade" tattoos, which have been spotted on celebrities like Rumer Willis. Whether or not you should get one depends on lots of factors: your appetite for risk, your budget, the design you plan on getting, your expectations of what it will look like as it fades, and how you'd feel if it ends up being permanent — which is a possibility (more on that later).
How do semipermanent tattoos differ from traditional ones? "The pigment particles are smaller than the ones in traditional ink, and they're wrapped in a polymer complex that's designed to degrade," explains Dhaval Bhanusali, M.D., a board-certified dermatologist who consulted on the development of Ephemeral's ink. As that encapsulating complex degrades, your body starts breaking down the color — something it can't do with the larger pigment particles in traditional tattoo ink. "The safety of the ingredients is on par, if not better than, the other tattoo inks on the market," he says.
Since Ephemeral's artists use the same type of machines used in traditional tattooing, the risks are similar: There's a small chance you could end up with scarring, an infection, or an allergic reaction. Numbers are hard to come by, but studies indicate 6 to 8 percent of people with tattoos may experience a complication, according to a 2022 report published in the International Journal of Environmental Research and Public Health. That said, Ephemeral's semipermanent tattoos are only available with black ink, which is less likely to cause issues than other colors, according to the same report.
Cost is something else to consider, because semipermanent tattoos are actually more expensive than regular ones. A small, bespoke design from Ephemeral — which has eight studio locations — is priced at $195, while a similar traditional tattoo in New York City will run you $80 to $100 (prices are lower outside of the city).
But if you already know what a semipermanent tattoo is, you've probably thought about the risks and cost. The bigger questions are how long it will last and what it will look like as it fades. I got an Ephemeral tattoo (and just posted photos of how it's progressing). When I chose the design, the company's website stated it would last 9 to 15 months, but the waiver I signed stated that the fade time could be longer and the process could leave permanent marks. So I picked a design and placement I wouldn't mind having for eternity — and I'm glad I did. It's been two years and the mandalalike design is still visible on my ankle.
Plus, it's fading unevenly; some of the black lines are gone, some are now a soft gray, and a few sections look just about as fresh as the day I got the tattoo. Still, I've been happy with the whole experience. But some Ephemeral customers told the New York Times they're unhappy that their tattoos lasted longer than 15 months. And the company has updated its marketing to reflect what it has learned in the two years since its first location opened. The website now says that 70 percent of Ephemeral tattoos will fade in less than two years, and the company guarantees that its designs will last at least a year — and no more than three — or you can get your money back.
Fade time depends on numerous variables, according to Bhanusali. "Just like with scars, there will always be some tattoos that fade quicker or slower based on things like where the tattoo is on the body and sun exposure," he says. From my own experience and the photos I've seen, fade time also seems to be affected by the complexity of the design and the width of the lines. I got an intricate design packed with shading and line work, so that could be why mine is still there.
The truth is, there's no way to tell what your experience will be like. So my suggestion is that you treat this whole process the same as you would if you were getting a permanent tattoo. Select a design and spot on your body with the assumption that it may be permanent. Do not get anything jokey, a tattoo for your current romantic partner, or something you'd be embarrassed of a decade from now. And if you can't picture yourself with permanent ink, then skip the semipermanent tattoos — or try something truly temporary like the stick-ons, below.
These don't scratch your skin surface, so they're truly semipermanent.
The stainlike formula of these designs will stay put for one to two weeks.
These last up to four days, and some of the designs are by actual tattoo artists.
For a minimal aesthetic, go with these hand-drawn decals.
Jennifer Sullivan answers all your beauty-related questions with practical advice and zero judgment. Send your questions to AskABeautyEditor@nymag.com. (By emailing, you agree to the terms here.)