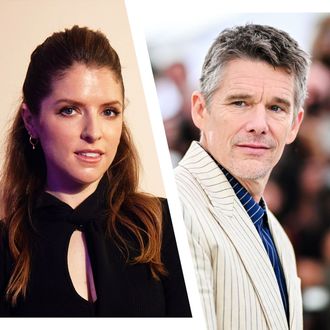 Anna Kendrick and Ethan Hawke, directors-at-large.
Photo-Illustration: Vulture. Photos: Getty Images
Festival season is not in a good place. With both the Screen Actors Guild and the Writers Guild striking simultaneously, attendance will likely be low. That means no Lady Gaga getting out of a boat and no Elle Fanning in a new version of Dior's New Look. In solidarity with the strikes, Luca Guadagnino's Challengers has even pulled out of the Venice Film Festival and is moving to next April instead. Oof! Still, the festivals must carry on, and the Toronto International Film Festival is doing just that. On July 24, the festival announced its Gala and Special Presentations, a list of 60 films from filmmakers including Taika Waititi, Richard Linklater, and Alexander Payne. One way around the star deficit is to have the stars who direct in the lineup, and this slate has no shortage of that, with films from Anna Kendrick, Michael Keaton, Viggo Mortensen, Chris Pine, and Ethan Hawke all on the docket. Below, the full list of films that will be screening at TIFF 2023, September 7–17.
Gala Presentations 2023
Concrete Utopia, directed by Um Tae-Hwa
Dumb Money, directed by Craig Gillespie
Fair Play, directed by Chloe Domont
Flora and Son, directed by John Carney
Hate to Love: Nickelback, directed by Leigh Brooks
Lee, directed by Ellen Kuras
Next Goal Wins, directed by Taika Waititi
NYAD, directed by Elizabeth Chai Vasarhelyi and Jimmy Chin
Punjab '95, directed by Honey Trehan
Solo, directed by Sophie Dupuis
The End We Start From, directed by Mahalia Belo
The Movie Emperor, directed by Ning Hao
The New Boy, directed by Warwick Thornton
The Royal Hotel, directed by Kitty Green
Special Presentations 2023
A Difficult Year, directed by Éric Toledano and Olivier Nakache
A Normal Family, directed by Hur Jin-ho
American Fiction, directed by Cord Jefferson
Anatomy of a Fall, directed by Justine Triet
Close to You, directed by Dominic Savage
Days of Happiness, directed by Chloé Robichaud
El Rapto, directed by Daniela Goggi
Ezra, directed by Tony Goldwyn
Fingernails, directed by Christos Nikou
Four Daughters, directed by Kaouther Ben Hania
His Three Daughters, directed by Azazel Jacobs
Hitman, directed by Richard Linklater
In Restless Dreams: The Music of Paul Simon, directed by Alex Gibney
Kidnapped, directed by Marco Bellocchio
Knox Goes Away, directed by Michael Keaton
La Chimera, directed by Alice Rohrwacher
Last Summer, directed by Catherine Breillat
Les Indésirables, directed by Ladj Ly
Memory, directed by Michel Franco
Monster, directed by Kore-eda Hirokazu
Mother Couch, directed by Niclas Larsson
North Star, directed by Kristin Scott Thomas
One Life, directed by James Hawes
Pain Hustlers, directed by David Yates
Poolman, directed by Chris Pine
Reptile, directed by Grant Singer
Rustin, directed by George C. Wolfe
Seven Veils, directed by Atom Egoyan
Shoshana, directed by Michael Winterbottom
Sing Sing, directed by Greg Kwedar
Smugglers, directed by Ryoo Seung-wan
Swan Song, directed by Chelsea McMullan
The Beast, directed by Bertrand Bonello
The Burial, directed by Maggie Betts
The Convert, directed by Lee Tamahori
The Critic, directed by Anand Tucker
The Dead Don't Hurt, directed by Viggo Mortensen
The Holdovers, directed by Alexander Payne
The Peasants, directed by DK Welchman and Hugh Welchman
The Zone of Interest, directed by Jonathan Glazer
Together 99, directed by Lukas Moodysson
Unicorns, directed by Sally El Hosaini and James Krishna Floyd
Uproar, directed by Paul Middleditch and Hamish Bennett
Wicked Little Letters, directed by Thea Sharrock
Wildcat, directed by Ethan Hawke
Woman of the Hour, directed by Anna Kendrick
Source link