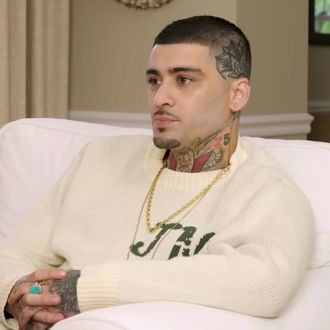 If you've logged onto the internet today, you've heard that Zayn, formerly of One Direction, did his first interview in six years. The singer went on Call Her Daddy, the popular feministish podcast hosted by Alex Cooper — ostensibly to promote his upcoming single "Love Like This," but really to make an internet moment by speaking again. "We're kind of like popping the cherry back off," Cooper joked of Zayn's time away from the press, hyping up her own interview. Zayn himself even said in the interview that he wanted to show his daughter that he could overcome his anxiety so she could "look at me and be like, 'Yo, my dad's doing this.'"
Except that, let's be real, Call Her Daddy is not The Press either. The secret to getting over your press aversion might just be picking a notoriously chill podcast that celebrities dealing with a scandal or promoting a new project already flock to, where you'll be asked if you remember your X-Factor audition song and reveal that you weren't just the mysterious and quiet member of One Direction. Not bad for an hour's work! The most interesting details ended up just being about Zayn's life in Pennsylvania, full of animals (three dogs, three cats, three turtles, and six chickens, whom he didn't name because he "got too attached last time") and Wawa ("a nighttime lifesaver"; he gets the meatball sub).
That's all typical Call Her Daddy fare. But in confident influencer fashion, Cooper did attempt investigative journalism by lobbing a question at the end about the 2021 incident where Zayn was accused of assaulting his ex Gigi Hadid and her mother, Yolanda. She set it up by praising Zayn for taking "the high road" by not commenting on the claims in the moment and turned it into a question about how Zayn protects his "character." After a nonanswer about not wasting time with "negativity," Cooper went on to say she did this as a feminist. "I more so just also wanted to give you the chance, because I think you obviously handled it so amicably," she said. "I also think, in doing my job, like this is a podcast where I'm trying to support women, right, and like reading headlines, I wanted to hear from you obviously."
And now we're just back to where we've been for the past six years, looking for crumbs of One Direction gossip.