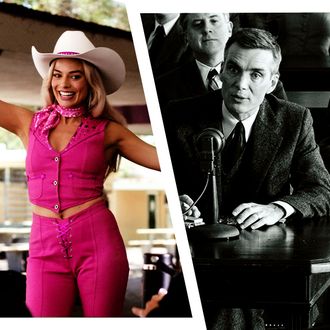 Photo: Illustration: Vulture. Photos: Getty Images
Barbenheimer took over social media by creating memes and a new double feature, accompanied by pink outfits of course. Now on opening weekend amid two historic industry strikes, Barbie and Oppenheimer are moving on to take over no. 2: movie theaters — or if you want it translated in Tom Cruise terms: it's a "See you at the movies" weekend. No matter which Barbie moviegoers are dressed as, Barbie has officially won this year's box office. As of Sunday afternoon, Barbie has the largest domestic opening of 2023 to date, mostly due to its in-escapable marketing efforts and presales, with $155 million. On the other side of the theater, Christopher Nolan's three hour long Oppenheimer has earned an estimated $80.5 million domestically for its opening weekend. Per Deadline, this is the first time in Hollywood history that two films have opened to more than $100 million and $50 million, respectively, at the domestic box office. Barbie's marketing, wider audience, and shorter run time aren't the only reasons why the film is headed toward the dreamhouse of summer blockbusters.
What separates the Greta Gerwig movie from other summer releases earlier this year, like Indiana Jones, Mission Impossible, and Fast X, is how much its budget contrasts against its upcoming box office earnings. The Mattel flick had a $145 million budget compared to Dial of Destiny's $294.7 million, Dead Reckoning's $291 million, and Fast X $340 million, with the latter two just breaking even in the worldwide box office. Barbie's budget is making it way easier for the film to turn a profit.
Barbie's big break has unseated The Super Mario Bros Movie as the highest-grossing domestic opening of the year. Super Mario Bros hit $146 million at the domestic box office during its three-day opening weekend and $573 million overall for 2023. As far as total box office earnings, Barbie may be on track to beat out The Super Mario Bros Movie as well as Across the Spider-verse. Spider-verse had a quieter opening weekend than Barbie and Mario but quickly grew into a phenomenon with a current domestic box office of $372 million. How many dream houses can one Barbie earn over the summer? Or better yet— how many cans of pink paint?
This post has been updated.