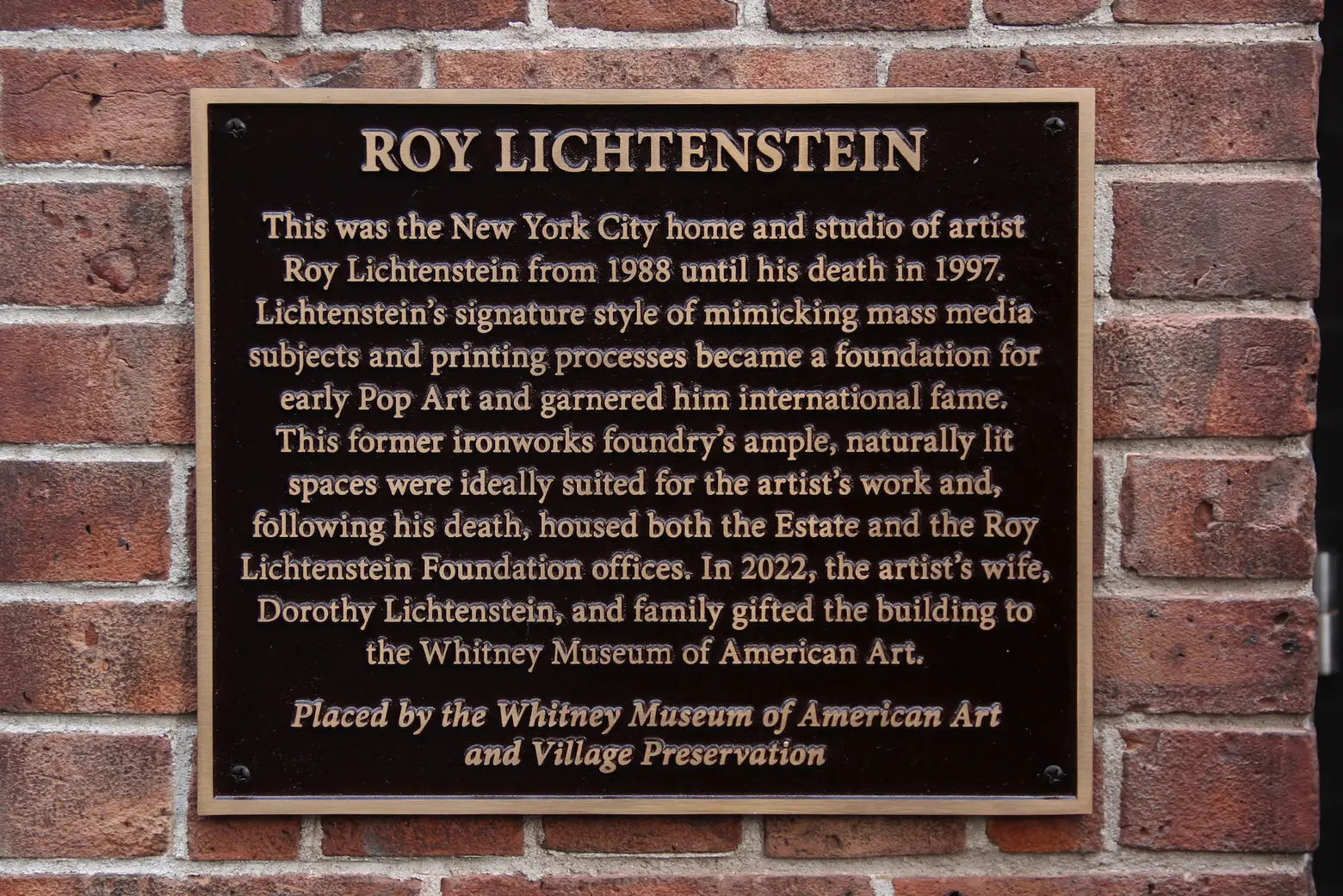 The Whitney Museum of American Art and Village Preservation on Thursday unveiled a historic plaque at the Greenwich Village home and studio of the renowned artist Roy Lichtenstein. Lichtenstein lived and worked at the 11,000-square-foot building at 741-745 Washington Street from 1988 until his passing in 1997. The building, constructed in 1912 as a metalworking shop, has officially reopened after receiving a full renovation by Los Angeles-based architects Johnston Marklee. The building now serves as the first permanent home for the museum's Independent Study Program (ISP), which supports future artists and scholars.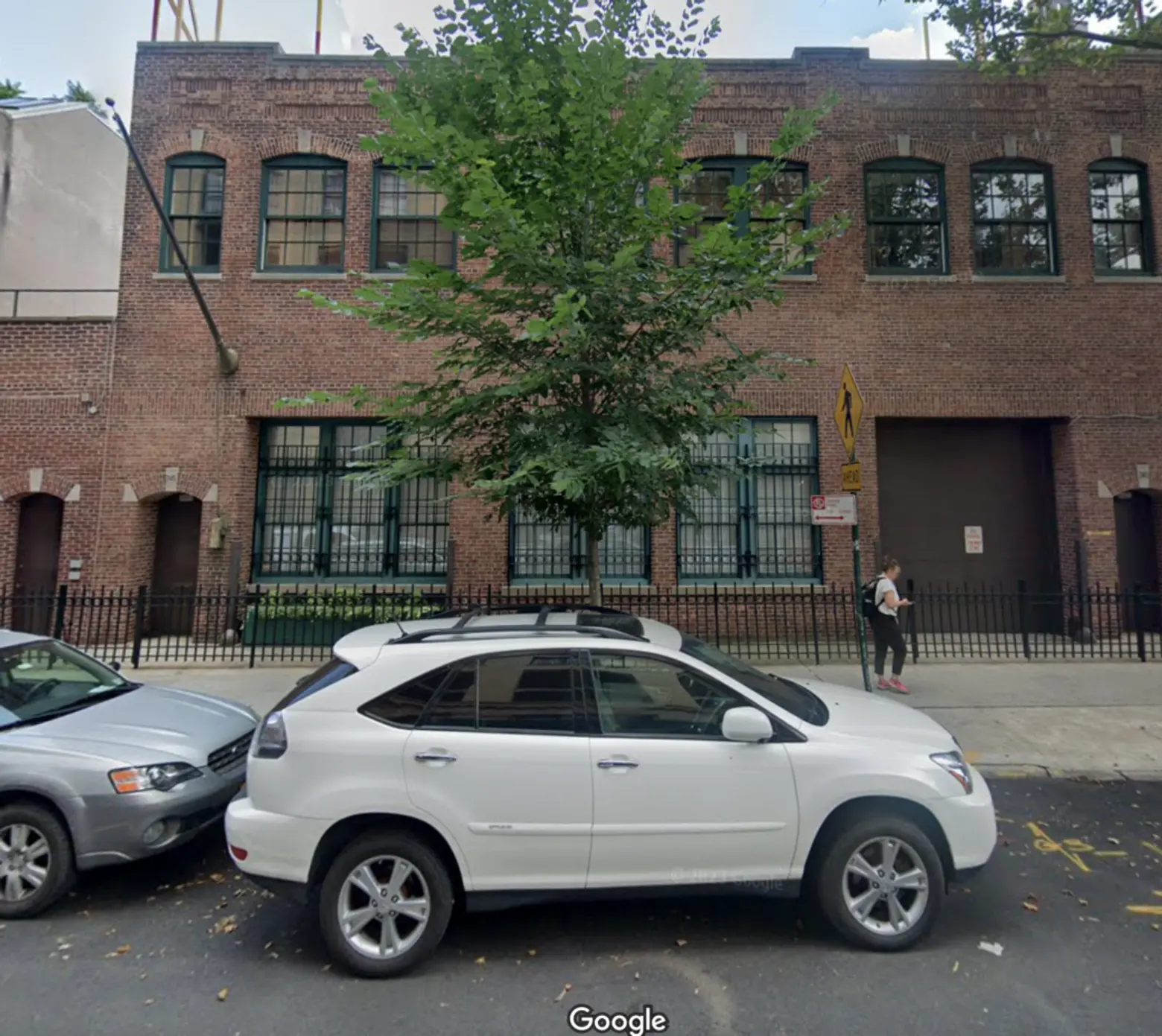 In the years since Lichtenstein's passing, the property has been used by the Roy Lichtenstein Foundation for a variety of purposes, including the preparation of archives and the creation of the artist's catalogue raisonné. In 2022, the Foundation donated the building to the Whitney Museum of Art, which had a close relationship with the artist since the museum first presented his work in 1965.
For 55 years, the ISP has supported the growth of artists, critics, and scholars and provided them with space, instruction, and support to fully devote themselves to their craft. The Washington Street property will be the program's first permanent home. The space will go on to train the next generation of world-class artists.
"This project is so important to me and to the Whitney, as it truly sits at the heart of our mission to support American art and artists in innovative ways," Adam D. Weinberg, the Alice Pratt Brown Director of the Whitney Museum, said. 
"The original Whitney was the studio of our founder Gertrude Vanderbilt Whitney, where she held salons and conversations and gatherings of artists. The ISP is a continuation of Gertrude's tradition, and to have its first permanent home be in the same space where an iconic American artist questioned hierarchies and worked to evaluate, understand, and critique pop culture, is just perfect."
The renovation project was approved by the city's Landmarks Preservation Commission in 2022 and retained many of its historical elements, including a chandelier in the central stairway, ornamental metal designs, and Lichtenstein's distinct rail system that he used to hang his oversized paintings to dry.
What was Lichtenstein's former office will serve as the seminar room for the ISP, while his former living quarters on the second floor have been turned into space for meetings and research, according to the New York Times. Extra space has been added on the third floor that will serve as living space for an artist-in-residence.
The ground floor studio has been divided into 15 individual studios; amenities such as lounges and dining areas have also been added.
The Greenwich Village building was Lichtenstein's "dream studio," Dorothy Lichtenstein told the Times. "It was the largest studio he ever had," and was so big that he and Dorothy were once able to jog in it before it was subdivided into smaller sections.
"This is the most wonderful way to celebrate Roy's legacy," Dorothy Lichtenstein said. "The ISP is such an extraordinary organization, and I am so proud to support it in any way possible. I am so pleased with the sensitive way the architects designed this space, which is so important to me, and was so important to Roy. It was his favorite studio, and I know he would be very happy."
RELATED: