Posted on: November 3, 2023, 08:55h. 
Last updated on: November 3, 2023, 08:55h.
A sex worker remains in jail after she was arrested for attempted murder. She beat and robbed a wheelchair-bound man at a room in Caesars Palace Las Vegas last Friday, police said.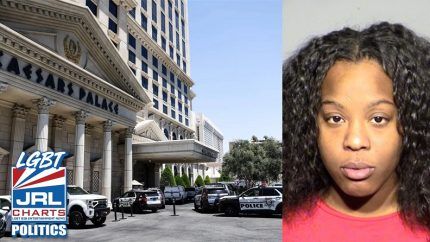 Napria Wilson, 26, also was charged with robbery and residential burglary after she stole about $6K from the man, police added.
When a hotel security guard arrived at the room at about 7 a.m., the victim was covered in blood and was helpless on the floor, according to Las Vegas TV station KLAS.
He was on his back between two beds. He could be heard moaning and yelling for assistance, police said.
Bones in his face were broken and fractured. There were extensive bruises on his body and his eyes were extremely swollen, police said. His hands were also extensively swollen.
Blood was on bed sheets, furnishings, and the hotel room floor, according to Las Vegas TV station KTNV.
The unnamed man, who appeared to be in his late 60s, has limited mobility and uses a scooter due to his chronic disabilities.
He was able to tell the guard he solicited the services of the sex worker when the two met on the Caesars Palace gaming floor. The two went up to his room and that's where the crimes unfolded.
Sex Scam
Initially, the man gave her $500 for sex acts.
Wilson took the money and stayed in the room. After a couple of minutes, Wilson again asked [the man] for the money and [the man] stated, 'I already gave it to you,'" according to a police report.
Wilson got into an argument with the man after he realized he was the target of a scam.
Again, she ordered him to give her the money. Before leaving, she stole his wallet.
The victim was transported to a local hospital for treatment. Authorities didn't have an updated condition on the man as of Friday. It was unclear if doctors needed to perform surgery to treat his injured face.
After getting alerted about the attack, Las Vegas Metropolitan Police Department (LVMPD) officers searched the hotel for evidence.
Officers also watched hotel surveillance video. It showed Wilson leaving a hotel room. She then went into a hotel elevator, which took her to the ground floor, the video revealed. She walked out of the hotel exit and entered a taxi.
Vomits in Taxi
She vomited after getting into the cab.
Wilson apologizes to the driver and tells him she will pay him extra to get her 'out of here' and appears to pass him a $100 dollar bill from her purse," according to the police report.  The taxi driver then drove away with her as a backseat passenger.
Police were able to identify the suspect as Wilson after checking with the taxi company.
Later, Wilson was apprehended. She was booked at the Clark County Detention Center on Wednesday.
Her case was turned over to local prosecutors. She has yet to enter a plea on the charges.
If convicted, she could be sentenced to many years in prison.
Wilson didn't appear to have been injured while she was allegedly beating the man.
Police didn't reveal if Wilson had been arrested previously.