The enormous increase in remote work that occurred during the pandemic was a response to a temporary public health crisis. Now that the pandemic has passed, just how much remote work will persist and how much are businesses comfortable with? Results from our August regional business surveys indicate that more than 20 percent of all service work and 4 percent of all manufacturing work is currently being done remotely, nearly identical to what was reported a year ago, and this amount of remote work is expected to persist in the year ahead. However, on average, service sector businesses would prefer that about 15 percent of work be done remotely. Indeed, nearly a quarter of service firms have increased requirements for employees to work on-site over the past year and about one in six plan to make further adjustments toward in-person work next year. Ultimately, the degree and persistence of remote work will largely depend on the tightness of the labor market, as businesses report that while remote work does have its downsides, it has been particularly helpful for attracting and retaining workers.
Remote Work Has Stuck in the Region
The chart below shows the average share of hours worked remotely as reported by respondents to our regional business surveys. While little remote work was occurring before the pandemic, roughly a third of all service work was being conducted remotely in mid-2021, as was about 8 percent of manufacturing work. One year later, by August 2022, those shares had declined to 21 percent among service firms and 7 percent among manufacturers. While the manufacturing share dropped to 4 percent in the August 2023 survey, the share among service firms has held remarkably steady. And indeed, looking ahead to next year, service firms expect about 20 percent of work to be conducted remotely, while manufacturers expect 4 percent. This pattern is consistent with other research showing that remote work is here to stay.
Remote Work Has Stuck
Firms also reported how much remote work they would offer if they did not have to consider employee preferences. Interestingly, the "ideal" amount of remote work from the perspective of businesses surveyed is around 15 percent for service firms—twice the pre-pandemic level, but roughly a third less than the current amount—and 4 percent for manufacturers, where it currently sits. Service firms' preferences are for a larger share of in-person-only workers compared to current arrangements, as opposed to fewer telecommuting days for hybrid workers. Indeed, such firms, on average, would prefer 77 percent of their workers to be in fully in-person compared to 68 percent now, 14 percent hybrid compared to 19 percent currently—in both cases, working from home about two days per week—and 9 percent fully remote compared to the current share of 13 percent. All in all, while manufacturers are largely content with the small amount of remote work that is occurring, if service firms had their way, they would still like significantly more remote work than before the pandemic—pointing to the benefits they are reaping—but somewhat less than is occurring today, reflecting some downsides of offering remote work.
Firms See Benefits and Costs of Remote Work
Businesses in this year's survey reported on the positive and negative aspects of their remote work arrangements, shown in the chart below for service firms (we focus here on the service sector since there is so little remote work occurring among manufacturers, though the patterns are quite similar). The two largest advantages cited are employee retention and recruitment. Given the tight labor market over the past few years, remote work has clearly helped businesses find and keep the workers they need. To a lesser extent, businesses also have seen reduced real estate expenses and lower wage costs.
Share of Service Firms Reporting Positive and Negative Aspects of Remote Work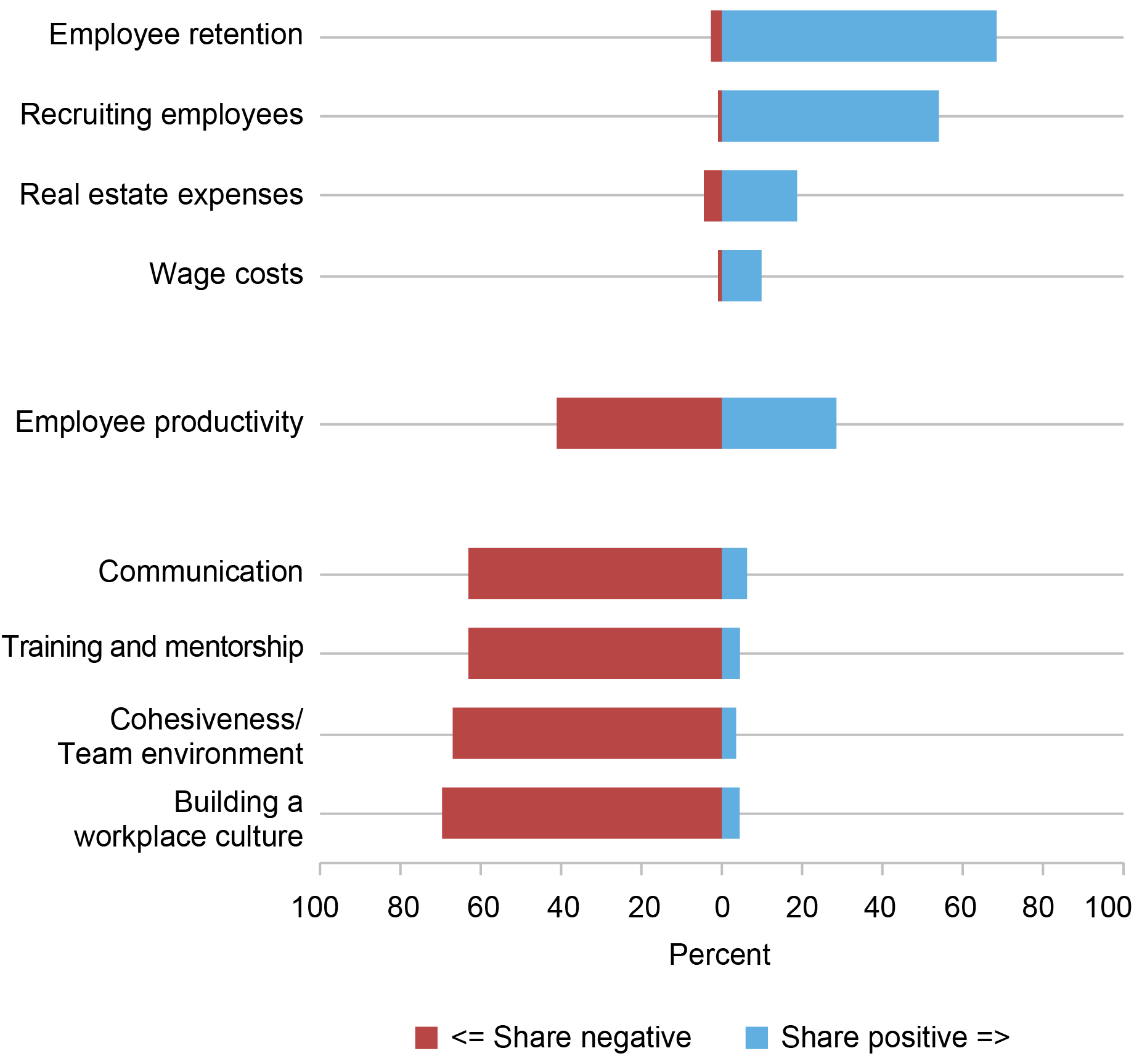 Interestingly, firms were split about whether remote work increased the productivity of their workers, with about 30 percent citing it as a positive and just over 40 percent citing it as a negative. Other surveys have shown a similar bifurcated pattern, pointing to significant differences in how remote work is working out for different kinds of workers and businesses. Some of these differences likely reflect the type of work being conducted, where workers doing mostly repetitive tasks in isolation can be more efficient working from home, but productivity may suffer among knowledge workers engaged in activities that require collaboration and the exchange of ideas.
Remote work has some clear disadvantages for businesses. Over   
60 percent of service firms say that remote work impedes important activities necessary for long-term success, such as training and mentorship, communication and collaboration, and building a workplace culture. Indeed, along these lines, new research analyzing "the power of proximity" has shown that reduced on-the-job training, mentorship, and collaboration due to working remotely can be particularly damaging to young workers and women. Moreover, other research has shown that remote workers, largely for the same reasons, are less likely to be promoted than their on-site peers, potentially stunting their career development by working from home. This mix of costs and benefits helps explain why businesses ideally would like to offer more remote work than before the pandemic, but less than is currently occurring.
Will Remote Work Continue to Persist?
While the amount of remote work that is occurring will clearly remain elevated relative to before the pandemic, the extent to which remote work continues to persist at the levels seen today will largely depend on the distribution of power between employers and employees. In a tight labor market, employers are more inclined to offer remote work as a benefit to attract and retain workers. However, survey results indicate businesses generally prefer less remote work than is occurring now and, on net, have been making changes requiring more in-person work. Indeed, about 25 percent of service firms in our survey have required workers to be in the office more often over the past year and 17 percent say they will increase on-site requirements in the year ahead. These changes already point to small reductions in the amount of remote work going forward. If labor markets remain tight, the amount of remote work may hold steady, but if labor markets cool and workers become more plentiful, firms may continue to reduce the amount of remote work to strike a better balance between the costs and benefits.
Chart data


Jaison R. Abel is the head of Urban and Regional Studies in the Federal Reserve Bank of New York's Research and Statistics Group.

Richard Deitz is an economic research advisor in Urban and Regional Studies in the Federal Reserve Bank of New York's Research and Statistics Group.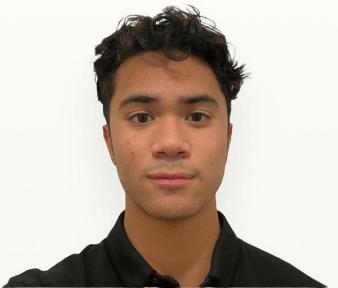 Dan Garcia is a senior research analyst in Urban and Regional Studies in the Federal Reserve Bank of New York's Research and Statistics Group.

Ben Hyman is a research economist in Urban and Regional Studies in the Federal Reserve Bank of New York's Research and Statistics Group.  
How to cite this post:
Jaison R. Abel, Richard Deitz, Dan Garcia, and Ben Hyman, "Businesses Want Remote Work, Just Not as Much," Federal Reserve Bank of New York Liberty Street Economics, August 23, 2023, https://libertystreeteconomics.newyorkfed.org/2023/08/businesses-want-remote-work-just-not-as-much/.
---
Disclaimer
The views expressed in this post are those of the author(s) and do not necessarily reflect the position of the Federal Reserve Bank of New York or the Federal Reserve System. Any errors or omissions are the responsibility of the author(s).